Back in seminary my Hebrew professor once mentioned meeting an elderly man in Egypt who was illiterate in 7 languages. He was making a comment on our US education where we don't learn languages. It has often come back to me as a lesson regarding those who are able to learn without formal opportunities.
While in India, we encountered a number of children begging who were fluent in multiple languages. Most of the time we saw them, they should have been in school but instead were out trying to work the tourists to stay alive. I found myself wondering what would become of them... and what could become of them if they had the opportunity for education.
Some months ago I remember vaguely hearing about some Silicon Valley types dreaming about a $200 laptop that would run via a crank and bring wireless computing to children in the developing world. It sounded like a good idea but it seemed a bit crazy and impractical. Well, they have done it! Check out
this link
to learn about the project.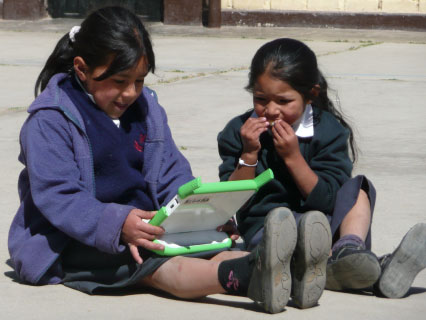 and
this link
to give a laptop to a child in the developing world. Plus, if you do it before November 26, for a donation of $399, one XO laptop will be sent to empower a child in a developing nation and one will be sent to a child in your life in recognition of your contribution. $200 of your donation is tax-deductible (your $399 donation minus the fair market value of the XO laptop you will be receiving). Plus Tmobile with give you one year of free wifi access.
Wanna know what is on my Christmas list? One XO laptop fr a child somewhere in the world who's name I will never know.