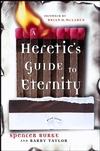 I finished my second read through
A Heretic's Guide to Eternity
the other day and need to say a bit more about it...
I first discovered that I was a heretic back in 1975 when I went through my ordination council with the Philadelphia Baptist Association. They voted me down, called me back for more questions, voted me down again, tried to get a local pastor to tutor me in the "right path," and when they couldn't called me back for more questions... actually just one - "Is there any chance your views will change?" When I replied "yes, I'm sure they will" that gave them the out they needed and they voted to allow the congregation I was already serving to proceed with ordination. Many times since then, I have been branded with the same title. Well, after reading the book, I am a little happier with the title than I was before. In fact, maybe I'll even own it! I'm reminded of an adult Sunday School class about 2 years ago at
Cambridge Drive Church
where three groups were charged with writing a good old fashioned confession of faith. The one that I liked the best began with the statement, "All Confessions of Faith must be written in pencil." I like that
alot
So to the book... as I said before a primary theme is the juxtaposition of spirituality defined by grace vs. "religion" by which Spencer means all of the institutional stuff - rules, confessions, dogma, etc. etc. I find myself agreeing with
many
of his conclusions. I believe in the primacy of grace and free floaties. I believe that God is bigger than any of our systems of thought, or doctrine, or even of experience. I believe that we can find "truth" in just about every religion out there while still owning that they are not the same. I like unversalism as a
starting point
. I even believe that our understanding of God is growing as a culture and we are moving beyond where we were and it is a good thing. But... and it is a big but... there are two places where I feel like Spencer has dropped the ball.
1. He talks about "religion" as being culturally bound and shaped while "spirituality" (which is where he says we're headed) is universal. I think he is falling into the same trap that our ancestors in the faith lived in - the idea that we have gotten to the end of revelation and our views are eternal while everyone else's are flawed. Again, I agree with his conclusions that the Church as we have known it is quickly dying and will be gone in a relatively short time, but the forms that will replace it are still culturally bound, just bound to a new culture. This is a very important critique because it changes the whole nature of the argument. If his new schema is eternal and universal, then it becomes static and cannot be questioned. If it too is written in pencil, then the journey continues.
2. While Spencer clearly says that faith must be communal for it to be all that it can be, he doesn't give any way to build that community of faith once he has discarded the institutions of the past. Indeed, his few short descriptions of his community of faith left me feeling very sad. I really want to hear him tell what this new community of faith might look like without any institutional trappings. Base communities that struggle together over praxis... house churches that study and hold one another accountable... intentional communities that live faith as an alternative lifestyle... we need something more than what feels to me as too easy an escape from the joys and difficulties of community.
I also wanted a bit more about the way we follow Jesus in this murky water of religious pluralism... how does that play itself out in the free-wheeling, market driven world of spirituality where each person spins their own, often out of their own juices and often out of what feels easy and convenient rather than what challenges us to grow and change and serve.
To the degree that this book reflects some of the thought in at least one wing of the "emerging" church, it will provide a convenient target for some on the conservative side of things who are already condemning this movement as being soft on doctrine and anything but orthodox. He obviously pushes the envelope more than many of the other writers dealing with similar subject matter. I'm sure that the title "heretic" will be thrown at him more than once in the coming days.
All in all, I think it is an important book that will help frame some great discussions about the next steps for a Church that must leave behind its antiquated forms and find new ways of being followers of Jesus in a radically new world. Pick it up and read it and then wrestle with the ideas with a group of friends. Who knows, you may begin to answer the question I was left with... OK now what? How do we do this new thing together?